Happy Friday friends! I know I was excited for my honeymoon before, but waking up this morning I have a little extra motivation behind it. Minneapolis (and pretty much the entire state of Minnesota) got hit with a winter storm last night, and today we woke up to 5 inches (12 centimeters!) Friends, this is what Minnesota is all about: a never-ending winter.
April showers snow… brings the honeymoon!
The brand-new patio furniture we bought last year…and haven't used yet!
Just a little bit of snow!
So, I'm going to look at a little countdown!
Days until we leave: 6!
Hours left on the airplane: 42
Miles left to travel: 18,226 (29,332 km)
Hotels left to check in at: 4
Days of the honeymoon left to enjoy: 22
And of course, that countdown doesn't include the meals we will have, the beers (and perhaps champagne) we will consume, hours to spend on the beach and traveling, shopping, people to meet, things to do… luckily it is coming up quickly! Then of course, I haven't even started to pack- or shop- for it! I need an entire day at the mall. Of course, it is somewhat difficult to shop while here- not only because there are still winter clothes in the stores, but because I know everything over there is going to be so cheap. But hey, I am a girl, and therefor need to buy at least a few new things to wear while on our honeymoon. After all, I only get one!
Have a great weekend friends and family! If you are like me and stuck in this weather, just start planning your next vacation and it'll make passing the time (and snow) go quicker!
Lastly, this week I am featured over on another blog & we have a little blog hop going on! Feel free to link up, I'd love to check out some new blogs!
Welcome to the
FRESH FACE FRIDAY BLOG HOP!
Rules for hopping:
1| Follow your host & co-hosts (first 3 links), pretty please!
2| Link up your blog's homepage or Bloglovin' page.
3| Hop around, meet new bloggers, and leave them love!
4| Have fun? Spread the word and share this blog hop with your friends!
5| Want to be a co-host? Click here for more info!
Grab a button and share the blog hop love!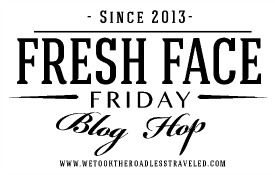 Tweet about this blog hop!
Tweet